Vol 13 No 35 November 4,2002
Can Avenues India Trigger off e-commerce boom?
E-commerce in India has continued to baffle both experts and trade analysts. But one vendor, Avenues India, has practically changed the rules of the game and turned the market on its head with its practical and economical payment processing solution. The result: Over 500 Indian companies have signed up in a period of only one year and over 50,000 transactions have already been executed through this solution. Does this solution have the potential to revolutionalise the e-commerce market in India? SRIKANTH R P reports.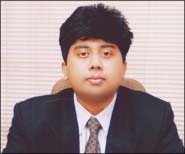 VISHWAS PATEL says that the aim behind ResAvenue was to deliver a comprehensive and cost-effective online payment e-merchants
WHY
is e-commerce such a non-starter in India?
Some obvious issues immediately come to mind-lack of penetration of the Internet as amedium in India and the 'fear' factor that prevents people from shopping on the Net since they would have to divulge their credit card details. But apart from these obvious issues, there is one more critical issue that has totally been over seen payment gateways. Subscription to and implementation of payment gateways, which are so critical in a company's online business, cost a bomb. For instance, if a company wants to avail the services of a payment gateway it has to shell approximately Rs 3 lakh. This includes a set-up fee of Rs 75,000, security deposit of Rs. 50,000, annual cost of 128-bit Verisign of Rs 42,000 - all this when the company has not even started operations. And most payment gateways lock the customer for a specific period by way of a contract ensuring that the customer continues to pay even if his business is not flourishing. No wonder, out of roughly 3,00,000 websites in India, only 300 actually process their transactions through payment gateways. These high costs and entry barriers have meant that serious brick and mortar players who intended to sell online have refrained from expanding their online presence.
But while the rest of the industry was still confused on the real reason for the lack of growth of e-commerce in India, one company - Avenues India - clearly say the reason for the lack of growth and also a booming opportunity if they could fulfill this need. After studying various payment gateways abroad and taking feedback from more than a hundred companies in India, the company created '
ResAvenue
', the only neutral Internet payment processing solution that allows processing of transactions of not only all credit card brands but, more importantly, all Internet enabled bank accounts at a fraction of the cost of current payment gateways.
Says Vishwas Patel, CEO and co-founder of Avenues, "E-commerce in India has always been shackled by high costs and expensive recurring fees charged by financial institutions. Only about 300 Indian websites (mostly VC-funded) could afford this. This situation prompted us to take the lead and architect
ResAvenue
. The aim was to deliver a comprehensive and cost-effective online payment solution for Indian e-merchants." The success of the solution is evident from the fact that ever since the solution was officially launched in September 2001 over 500 companies in India have eagerly lapped it up.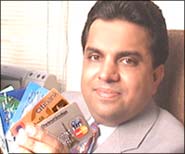 In a country like India Where the total ownership of credit cards is small compared to its total population, the only feasible alternative was to enable existing Internet bank accounts for online payments says
APURVA MODY
Strategy
The key reason for
ResAvenue
's success is not hard to fathom. Without high entry barriers of cost, small companies can now enable online payment collection on their website for just Rs. 5,000 for the economy account. This solution has been well received by the industry as there have been a lot of companies who don't want to invest substantially in payment gateways but want to test the waters for their product offerings. The company has also incorporated two credit card processing gateways into its platform - ICICI PaySeal and Citibank which ensure that all VISA and MasterCard transactions can always be processed in the event of one gateway failure.
But the reason that
ResAvenue
has been able to ramp up the numbers is its decision to support all Internet banking accounts. Says Apurva Mody, chief marketing officer, Avenues India, "Currently most major websites allow online shopping only through credit cards. But can e-commerce where ownership of a credit card is a pre-condition - really take off in India? We realized that in a country like ours, where the total ownership of credit cards is small compared to its total population, the only feasible alternative was to enable existing Internet bank accounts for online payments." This master move by the company has both banks and merchants interested. Banks not only get a huge merchant base but also an opportunity to offer a variety of products for their customers.
Currently the economy has signed up with almost all banks who offer Internet banking. This effective means that customers of banks like HDFC, ICICI, IDBI, UTI, Centurion and Global Trust Bank can now pay online for goods and services from Internet merchants using
ResAvenue
's solution.
Key Benefits
The benefits of a payment solution like
ResAvenue
is not only in terms of cost. For instance, the minimum time for processing of applications for routing transactions through the current gateways take a minimum of one month. But with
ResAvenue
's solution, abrick and mortar company can have a similar solution up and running within four days. But the more important thing that
ResAvenue
did was to enable payment in Indian rupees to merchants. Earlier, whenever shoppers used top shop the payment for the goods purchased used to be done in dollars and that too after a period of one month. But with this option, the merchants receive their payments once a week.
Another innovative step which the company has taken is the facility of offering SMS based order alerts to its members. Explains Patel, "Every time a sale is generated, sales officers can receive instant notification of sales directly on their cell phones, which allows them to track their sales actively. E-merchants who have critical logistics requirements and need to be updated on a minute-to-minute basis to plan their sourcing and deliveries will find this facility extremely beneficial to their needs."
Benefits For Indian exporters
In the past, whenever exporters of Indian companies went abroad for exhibitions or trade fairs they had a problem of verifying international credit cards to accept payments for their goods and services. But with a solution christened 'Collect Bill Payment' Indian exporters can now process secure real-time credit card transactions anywhere in the world via the Internet with guaranteed payments back home in Indian Rupees. All a merchant needs now is access to a PC or laptop with Internet connectivity and a
ResAvenue
account.
Explains Mody, "Exporters only need to send an e-mail to their buyers with a embedded tamper-proof payment link which when clicked by a foreign buyer prompts him to enter his credit card data directly on a Verisign secure SSL page provided by Citibank and ICICI Bank. The buyer can then enter his choice of credit cards whether Visa, MasterCard, American Express, Diners Club or Citibank e-cards and get real time confirmation of the success of the transaction. This greatly improves the exporter's scope of sales as well as reduces their risk of having to carry back or exchange vast sums of foreign currency." In addition, the software generates an invoice for each transaction that can be printed or sent by e-mail to the customer. The system also has an online accounting module enabling the exporter's head office to instantly monitor the exhibition sales performance remotely in real-time.
Monitoring Fraud
The 'fear' factor that has kept most customers and merchants away is also a prime area of focus for Avenues India. While the
ResAvenue
solution has built in Verisgn 128-bit SSL security, the company in addition has a risk management team that reviews every transaction microscopically. Explains Patel, "The credit card in its current form was never built for the Internet, while in the physical world credentials can be verified, the equation on the Internet changes dramatically. As a medium that offers anonymity, Internet fraud and charge-back issues are the nightmare of every e-merchant globally. We have installed products and processes to preempt credit card fraud and constantly advise merchants on how to forestall charge backs. On suspicion, we make an attempt to undertake physical verification. In line with global technology trends, we will be shortly implementing the Visa 3D secure protocol-a new initiative by VISA which promises to reduce e-commerce transaction fraud by over 90 percent."
Future
With the Indian market rapidly accepting
ResAvenue
's solutions, the company is now betting on achieving a customer base of more than 1,300 merchants by the year 2003.Going by the current growth rate where the company is adding an average of one to two customers on a daily basis, the target does not appear too difficult. In the coming months, Avenues will also look at making a dent in the global market, which is much bigger than the Indian one. With more than 50,000 transactions routed through its solution in a short span of time, Avenues India with its
ResAvenue
solution surely shows the promise of triggering off an e-commerce revolution in India.