CCAvenue has announced that he has began implementation of Verified By Visa and MasterCard Secure Code Authentication protocols. With the implementation of the above-mentioned MPI Plug-ins on our servers, CCAvenue expect to completely eliminate online fraudulent transactions of MasterCard and Visa credit cards processed through its systems. After successful implementation,
the cardholders will not be allowed to deny that he or she has not done or authorized the transactions and the liability of such transactions will shift from our merchants to the cardholders.
CCAvenue is amongst the first companies in South Asia, who are actively integrating these protocols. This protocols are seen to be a landmark in the history of online commerce as it will herald the start of a new era which will see more merchants opting for the internet as a sales channel and re-assure credit card holders that their credit cards cannot be misused.

Visa and MasterCard Card-holders, will have to follow the following procedure, if they want to use their cards online:-
They first have to go to the site of the bank or financial institution, which has issued them their Visa or MasterCard. On that site, they have to type in their Visa or MasterCard card number and a password of their own making. This simple process takes the passwords that only they know of and attaches it to their card number.
Next, when they visit any CCAvenue authorised merchants online site, type in their Credit Card numbers on CCAvenue payment gateway service providers' sites, they will be prompted for their chosen password.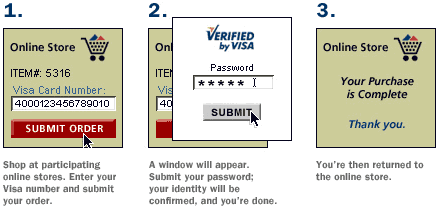 This ensures that nobody else can use his or her card numbers. After entering their correct password and the transaction is successfully authorized, then they cannot later deny that they have not authorized the transaction. For such password authenticated successful transactions, the liability will shift from the merchants to the cardholders, even if somebody else has fraudulently used their passwords and card numbers. Kindly visit (
www.verifiedbyvisa.com
), for more and complete details. CCAvenue is confident that its implementation of Verified By Visa and MasterCard SecureCode protocols, it will increase the profitability of its merchants, increase overall volumes and convince more Visa and MasterCard credit card holders to shop online, in a risk free environment.
CCAvenue will shortly announce the date, as to when the liability shift will happen from the merchants to the cardholders.
About Visa International
Visa is the world's leading payment brand with more than one billion cards in circulation worldwide. Visa-branded cards are used to purchase over US$2.3 trillion worth of goods and services every year and are accepted at more than 29 million merchant locations and over 800,000 ATMs. Visa is the market leader in Internet payment and electronic commerce and is pioneering the creation of u-commerce, or universal commerce, the ability to conduct commerce anywhere, anytime and any way. Visa's processing network, known as VisaNet Systems, is the largest and most sophisticated consumer financial transaction processing system in the world, processing up to 4,200 transactions a second in peak periods. In 2001, VisaNet processed over 25 billion transactions. In Asia Pacific, Visa has a greater market share than all other payment card brands combined with 59 percent of all card purchases at the point of sale being made using Visa cards. There are currently more than 365 million Visa cards in the region. During the year ended 30 June 2002, US$574 billion was spent in Asia Pacific using Visa cards, an increase of 42 percent over the previous year. Visa Asia Pacific's Internet address is
www.visa-asia.com.

About Avenues
Avenues is a profitable, debt-free company and currently services thousands of eMerchants worldwide through its solutions
www.CCAvenue.com
,
www.ResAvenue.com
,
www.EventAvenue.com
,
www.MembersAvenue.com
,
www.TrustAvenue.com
,
www.BpoAvenue.com
. It is the largest integrated eCommerce solutions provider in South Asia. Avenues has shown revenue growth and profit growth consistently, year on year. Avenues is incorporated in India, and has offices in Singapore, Hong Kong, and USA. The Avenues support and development center is based in Mumbai, India. The total strength of the Avenues team is currently 120 personnel, spanning across all disciplines. For more information, log onto:
www.Avenues.info