Mumbai, Dec 26 (PTI) Mumbai's Sneha Kulkarni was worried as to how she will send her monthly donation for 'chaturthi abhishek' to Siddhivinayak temple from the US where she had gone to visit her daughter. The temple's on-line system ensured that she could continue with her ritual from anywhere in the world.
Seventy-year-old Amit Vyas got nightmares when he thought of going to book a ticket - the long distance and queue could further deteriorate his health. Thanks to online booking, he could do so at the click of a mouse.
Welcome to a world where you can buy, and sell for that matter, literally anything sitting at home. What you need to have is a computer, internet accessibility and credit card or on-line banking service.
E-payment - paying on internet for goods or services you buy - is a concept slowly but steadily catching up in India. A number of institutions and merchants have woken up to the idea of offering their goods/services on-line in a secure way.
The Railways put up their own software in place for the on-line ticket booking facility but for smaller businessmen it involves high entry costs, integration of complicated software components, maintenance of huge hardware infrastructure and technical staff to handle it. It is here that the payment gateway companies step in.
A payment gateway company with the brand CCAvenues. "No agents, no middlemen, just the customer and the merchant, direct interaction-one on one," Nayak says adding, it is cheaper to reach customers over the Internet.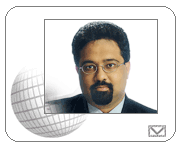 "What we do is marrying technology to business for the general profit," says Vivek Nayak, Chief Information Officer of Avenues,
"Another important aspect is optimising the cash flow.
The online model has to generate funds quickly, efficiently and cheaply. A payment gateway ensures the money flows in smoothly.
Payment gateway is a relatively new concept for the Indian merchants and also the customers. The company involved ensures prompt service to the customers and also proper cash receipts for the merchants through its tie up with various financial institutions which facilitate on-line payments.
"Earlier people were a bit apprehensive if their money was in safe hands or not. But now slowly the concept is catching up," Modi says.
Then there are facilities like the ICICI Bank's on-line services and the State Bank of India's 'e-pay'. The goods or services that can be brought comprise hotel bookings, gifts, cards, grocery, garments .. the list is endless.
A good payment gateway is the one that offers customers multiple payment options," says Apurva Modi, CCAvenues' Marketing Director.
ICICI Bank, which has a tie up with over 40 major shopping sites, offers on-line shopping through a safe mode of payment ensuring highest security.
"The other facilities offered are various bill payments, e-transfer of funds, accepting donations for some temples and charities apart from the regular shopping sites," says an ICICI Bank official.
Started in year 2000, the ICICI Bank's on-line transactions have seen a steady increase over last three years, she says adding, "internet as a channel for banking is definitely picking up."
SBI launched 'e-pay' in May this year with a similar concept. The services offered are payments of various bills, insurance premiums and even college fees of some select institutions.
"As on today, we have a tie-up with around 20 companies including MTNL, BSES and Mahanagar Gas Ltd. There are over 17,000 registered customers in Maharashtra circle (Maha & Goa) alone," says SBI e-pay's AGM (Business Planning) Sarang Rajan.
"Over 1,000 branches offer internet-banking," he says adding, however, the major chunk comes from the urban customers, mostly major cities. Most of our e-customers are from urban areas and that too in the younger age group".
SBI has a tie up with Indiaidea.com for e-collection.
Also, going by the age of our bank and the average age of the customers - after all we are in the business since so long - e-business at SBI will take a little time to catch up with the market pace, he says adding, "we anticipate things to get better in next 18-20 months".
Moreover, Rajan says "our staff has is to be trained too.
Till the time people are computer savvy, we cannot set big targets. It also depends on the computer (PC) penetration and access to internet." Avenues CEO Vishwas Patel cannot agree more. "That is one aspect which does matter when it comes to on-line transactions. You need a computer, net connectivity and a credit card or on-line banking facility," he says.
Started more than two years ago, CCAvenues today has 1,500 merchants with daily three to four joining the league.
"We feel we were at the right place at right time," Patel adds.
Siddhivinayak Temple in Mumbai has a similar story. After the temple receives on-line donations, it sends 'prasad' by courier.
."There has been a definite increase in the number of donations we are receiving on line. The `prasad' assures devotees of the feasibility of this scheme and the whole thing has increased the devotees' confidence," says Santosh Bhoy, an official associated with the Temple.
"We get more donations from outside India," he adds.
With the Indian market and the customers rapidly accepting the concept, the payment gateway companies see a bright future ahead. PTI