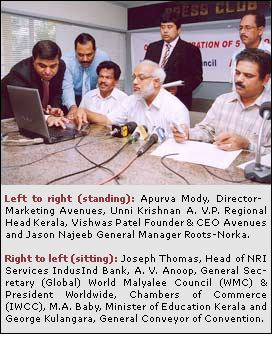 Avenues, South Asia's largest eCommerce company have chosen the prestigious World Malayalee Council Biennial Global Conference scheduled to take place in Kochi in the first week of August to globally launch of their latest Internet based software solution called EventAvenue.
The solution is specially designed for the Event Management industry and it empowers the event manager to handle all the details regarding managing the event from a single interface and helps him to reach out to his event exhibitors and attendees anywhere in the world. EventAvenue automates almost all the work processes involved with managing the event and eliminates the problems associated with the traditional manual process viz. increased errors, higher administrative costs and longer execution times.

Vishwas Patel, CEO of Avenues
, the company behind EventAvenue says, "To put it simply, just as the way the PC sent the typewriter to the junkyard, EventAvenue will soon drive obsolete the current manual methods of managing an event. We have automated almost all the work processes of the event manager and have built into a single window interface, a state-of-the-art solution that is easier, faster, cheaper and simply more efficient."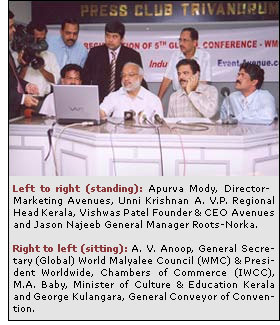 Delegates intending to attend the WMC Biennial Global Conference in Kochi are spread all over the globe. Traditionally registration would have meant making numerous long distance calls, a flurried exchange of mails, grappling with the uncertainties of international money transfer and living with information that would more often than not be outdated. Now with EventAvenue, they can simply log into the World Malayalee Council website (
http://www.worldmalayalee.org/
), read the latest happenings, register for the event and pay their registration fee at the website using their credit cards. Within a few seconds, the registration process is complete.
Mr
.
Andrew Pappachen, Global Chairman, World Malayalee Council
says, "The mission of WMC is to create a global Malayalee community able to communicate and co-operate each other and continue the connection through generations thus maintaining the Malayalee identity for years to come. Since the community is spread across the globe, the ease of use of an internet based solution like EventAvenue will motivate members of the community to attend events and increase the bonding within the community."
IndusInd Bank, the main sponsor of the event, was instrumental in bringing in EventAvenue to the table and in convincing Avenues to launch their software solution at this prestigious event.
Mr. Varghese Thambi, Sr. Vice President and Head of Retail Banking
IndusInd Bank says, "IndusInd Bank has been at the forefront of deploying technology to improve the service levels for our customers. IndusInd Bank enjoys close ties with Avenues through their tie-up in the internet banking arena. This has been beneficial for our customers as they now use their IndusInd Bank Accounts to pay for the goods and services of over 4000 of Avenues' web merchants retailing millions of different types of products and services. Given our positive experience with Avenues, we felt that it would be mutually beneficial if a global organization like the World Malayalee Council and Avenues came together and used technology to make things better."
With EventAvenue, event organizers will find the event management process fast and accurate; there will be huge savings in time and in administrative costs and most importantly, an up-to-the-second update of the delegates' status is available to them at the click of a mouse. This high degree of automation and the instant reporting facility that is built into the solution makes all event management operations easy and stress free. It's a win-win situation for all the parties involved.
About Avenues
Avenues is a profitable, debt-free USD 32 million+ turnover company and currently services more than four thousand eMerchants worldwide through its solutions
www.CCAvenue.com
,
www.ResAvenue.com
,
www.EventAvenue.com
and www.MembersAvenue.com. It is the largest eCommerce solutions provider in South Asia. Avenues has shown revenue growth and profit growth consistently, year on year even during the difficult economic scenario of the recent past. Avenues is incorporated in Mumbai, India. It also has subsidiary companies incorporated in Singapore and Hong Kong. The Avenues support and development center is based in Santa Cruz (W), Mumbai, India. For more information, visit
www.Avenues.info
.
About IndusInd Bank
IndusInd Bank has become one of the fastest-growing banks in the Indian banking sector today with its branch network expanding from 61 as on March 31, 2004 to 137 as on March 31, 2006 – reflecting an increase in excess of 125% in 24 months. The Bank has approximately 150 ATMs of its own, and has concluded multilateral arrangements with other banks with a total network of 15,000 ATM outlets. All the outlets of the Bank, including its branches and ATMs, are connected via satellite to its central database that operates on the latest version of IBM's AS400-720 series hardware and Midas Kapiti (now, Misys) software. IndusInd Bank's broad lines of business include Corporate Banking, Retail Banking, Treasury and Foreign Exchange, Investment Banking, Capital Markets, Non-Resident Indian (NRI) / High Net worth Individual (HNI) Banking, and (through a subsidiary) Information Technology. For more information about IndusInd Bank, please visit
www.indusind.com
About World Malayalee Council
Formed in April 1995, the World Malayalee Council (WMC) was officially inaugurated on 3rd July 1995 at the first World Convention of Non Resident Malayalees. The main objective of this organization is to provide a non-political forum to bring together the widely scattered community of people of Malayalee/Kerala origin and strengthen the common bonds of culture, tradition and way of life. The charter of the organization recognizes the revolutionary transformation taking place at global levels as a result of quantum leaps in technology. WMC works towards an international brotherhood of Malayalees /people of Kerala origin to bolster their cultural, artistic and social uniqueness and give resilience and understanding towards other cultures with which they have to co-exist and interact.