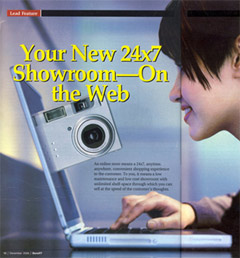 An online store means a 24x7, anytime, anywhere, convenient shopping experience to the customer. To you, it means a low maintenance and low cost showroom with unlimited shelf-space through which you can sell at the speed of the customer's thoughts.
A few days ago, close to midnight, I suddenly felt like buying 'The Ten Faces of Innovation' by Tom Kelley. I decided to do so the next day, but immediately realised that I could order it from Landmark bookstore's online avatar, landmarkonthenet.com, which is powered by Sify. Within five minutes I had ordered the book and paid for it online. All I needed was a PC, an Internet connection and a Credit Card. The book was delivered at my doorstep within three working days. Perhaps, if I had had to wait till the next day to go to the bookstore, I might have changed my mind. But Landmark locked the sale at the speed of my thoughts. That is the power of an online store.
To the customer, an online store spells a 24x7 showroom, and purchasing convenience. To you, it means a wider reach, more customers, and unlimited shelf-space. It also means low maintenance and costs.
But what does it take to start selling online? Broadly speaking, you need a website with a comprehensive catalogue, shopping cart software, a payment gateway, and one or a few back-office personnel arranging for stock to be despatched as soon as orders are received. It's not as easy as it sounds though, because you need to pay immense attention to each of these aspects.
Testing the waters before starting off
Will the volume of sales from the online store justify the investment? Does your merchandise lend itself to online sales, for example, if you sell fabrics or some such product where the 'touch and feel' factor is high, will online sales make sense? Suppose orders do abound, and you start getting orders from abroad as well; will you be able to meet the demand and ship all the goods without any problems?
If you are confused by such thoughts, then it might make sense to sell through an established e­commerce portal like eBay India, Rediff Shopping, Sify Shopping or Indiatimes Shopping for some time and then invest in a portal of your own, based on customers' response.
It's easy to start selling through such sites. You just have to upload the details of the products you have to sell, and ship the goods as and when an order is placed and payment is confirmed.
The advantage is that you don't have to invest in building an online store for yourself. But that could be a disadvantage too-there is only so much you can do on a third-party common retail site. You have to make use of the common template to catalogue and display your products. And well, it is not your site, so you are pitched on an equal plane with hundreds or thousands of other sellers registered with the same e­commerce portal.
So, when selling online becomes a long-term commitment, then it is better to go in for your own online store. Selling through a third-party site should preferably be only a warm-up exercise.
Web exclusive: All about setting up an online store
From the easy option of selling through an established e-commerce site, to setting up your own online store, we explain the whole sequence in a comprehensive article at
www.benefitmag.com
Prakash Bang, CEO of Prakash Bang & Sons, Mahesh Mohanan and Mervyn Jose, founders of saranam.com, and Parikshit Oar, co-founder and IT head of Bigtree Entertainment, share with us their experiences setting up and maintaining e-commerce portals for their businesses. Vivek Nayak, COO of Avenues India, and A R Ramesh, business head-merchant services. ICICI Bank, share with us the knowledge and perspective gained out of working with several merchants while helping set up their sales portals.
The first thing you need to do when you build your own online store is decide on the design, layout, organisation, etc, of your website. Your website needs to be simple and easily navigable. The product catalogue on the website should be comprehensive, with photos of the products, so that customers can easily find what they want. You also need to get the website optimised for search engines, so that customers can see your store listed in the top results when they search for related products.
Optimising the site for search engines is one step, but another far more important step that merchants can take is to improve the usability of their sites. What would be the point of getting customers to your site if they can't order or can't understand the ordering process? Building trust, ensuring transparency and communicating closely with your customers are the other factors," explains Mahesh Mohanan, co-founder, Saranam India Pvt Ltd, which is online at
www.saranam.com
.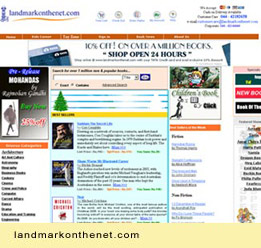 A shopping cart that helps your customers and you
So, how do customers pay for the products in their shopping cart? A payment gateway is a system that integrates with your shopping cart, allowing your customers to pay for the goods they bought by entering credit card details or by directly transferring the amount to your bank account. Other options include the traditional cash-on-­delivery or advance payment by demand drafts. A more recent option is mobile payment (such as those offered by mChq and PayMate), which allows customers to confirm payment through a single SMS to their bank, without revealing any credit card details.
Some e-commerce sites to kick-start your online sales venture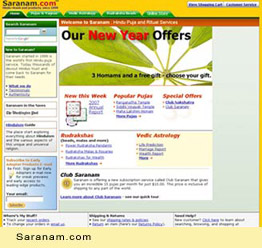 One option for setting up a payment gateway is to use one provided by your bank. ICICI Bank and HDFC Bank offer this service. ICICI Bank, for example, offers PaySeal which allows customers to securely enter their MasterCard or Visa credit card details and make the payment for their purchases. The amount is securely transferred to the merchant's account, and both of them receive a confirmation that the payment has been securely effected, all within a matter of seconds. PaySeal also offers a merchant administration module that facilitates extensive management information system (MIS) reporting and monitoring of transactions conducted via the gateway.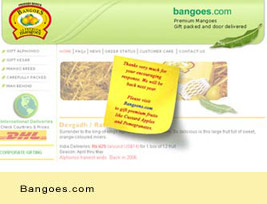 "The investment involves a one­-time payment for installation of the gateway and integrating it with their website; an annual rental which is based on the volume of their transactions (the fee may even be waived if transaction volumes are high); and a merchant service fee per transaction, which is a certain percentage of the transaction­ - again a function of the volume of transactions," explains A R Ramesh, business head-merchant services, ICICI Bank.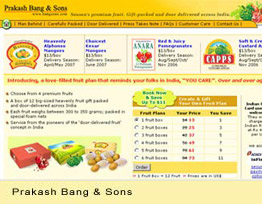 The advantage of using your bank's payment gateway facility is the truly direct nature of the transactions.
But do you have to bank on the bank?
According to Mohanan, it would be prohibitively expensive to try to negotiate a merchant account with individual banks. Saranam.com uses CCAvenues, a third-party payment gateway provided by Avenues India, which has over 3500 merchants using it. "There is risk analysis, payment processing, server-uptime, all of which is handled by CCAvenue and at a fraction of the cost. For merchants considering setting up an online store, I strongly recommend developing their own shopping cart along with a third­-party payment gateway," says Mervyn Jose, co-founder, Saranam India.
Payment gateways provided by banks make sense only for merchants with a very high volume of transactions, because merchants will need to put in a very large sum of money to secure their servers and for a lien deposit with the bank. Subsequently, they have to go through the formalities of clearing the bank's audits by the risk and legal departments, spend time and money in building the software that communicates with the bank's servers, and so on. This is where third-party payment gateways like those offered by Avenues, Sify and other players, play a role.
"Payment gateways provided by banks make sense only for merchants with a very high volume of transaction."
With a third-party payment gateway provider like Avenues, the merchant simply has to sign up, complete the agreements and the formalities, pay as little as Rs 7500, plug in the payment gateway and start doing business. Also, since Avenues is a neutral third-party player, it connects to 13 banks in addition to accepting six credit cards. A payment gateway offered by individual banks cannot do this as they're unable to tie up with competing banks. In this respect, third-party payment gateways score a point higher, as they can reach a larger population of the paying public.
But these are not competing services, explains Vivek Nayak, COO, Avenues India: "The truth is that Avenues doesn't compete with the banks but works with the banks. There are two reasons: reach and risk. Very few merchants can satisfy the bank's risk and turnover requirements. Avenues, with its low entry-barrier pricing-strategy can gather a lot of these non-qualifying merchants, do their risk-assessment and pass on all the transactions to the bank as a thick pipe. So the bank enjoys risk-free transactions from only one merchant (the third-party gateway service provider, who is anyway well-known to them) and they need to service only this single merchant rather than hundreds of other small (and potentially risky) merchants. Avenues' low entry- barrier strategy plays the vital role of encouraging new Web merchants to come into the system, expanding the overall e-commerce market in the country."
The world is not free of defaulters
All is not hunky-dory though. As in every venture, there are risks here too. Although security and privacy, in terms of information not being leaked online when a customer enters credit card details, are ensured by modern technology, there is still the problem of defaulters, as Mohanan brings to our notice: "For example, if a customer from any country, were to use his credit card to pay for a service or product, acquires the product and then disputes the charge made to his card. There is little a merchant can do about it. The merchant can forward to the payment gateway all relevant documents like proof of delivery from the courier, e-mails sent and received from the customer, etc. The gateway will forward these documents to Visa, who then require a 'minimum' of 75 days to respond. However, as soon as the customer disputes the charge, the merchant's account will be debited for the whole amount charged."
Mohanan adds, "The payment gateway cannot be blamed for Visa regulations but I think merchants who want to do online business should be aware of these things. Though the gateway does issue alerts for suspect transactions, in most cases, it is impractical to fulfil the requirements to prevent fraud, as over-tight rules will also end up causing a lot of inconvenience to genuine customers and companies cannot afford to do this. Merchants have to strike a balance between fraud-control measures and customer convenience or else risk losing customers for whom convenience is the prime reason for shopping online. It would be great if payment gateways or Visa could pay a little more attention to protecting the interests of the merchants too."
The good news is that Visa and MasterCard are moving in this direction. New security processes from Visa and MasterCard such as VBV (Verified By Visa) and MSC (MasterCard Secure Code) require the customer to put in a secret code (like an ATM PIN, which is only known to the customer) while completing the transaction. After this, if the cardholder disputes the transaction for the often used reason that, " ...the transaction was not authorised by me," then the liability will shift from the merchant (who currently bears the loss) to the issuing-bank or the card-holder. This protects the merchant to an extent from unreasonable charge­back activity.
Undoubtedly, setting up a reliable payment gateway is one of the most crucial aspects of setting up an online store and requires deep thought and research before zeroing in on the best option.
Some payment gateway options
Spend time on the decision-making
Zeroing-in on the right option for each aspect of an online store is very important, because these should work in sync with each other without any problems, and should also gel well with your overall business strategy. In most cases, it makes sense to work in association with end-to-end solution providers like Avenues India or Sify.
End-to-end solution providers
Ultimately, according to Prakash Bang, who successfully runs Bangoes.com, the success of an online sales portal depends on: "Top quality products, prompt after-sales service with a dedicated customer-support team, and plenty of patience!"
Copyright © 2006 Janani Gopalakrishnan. This work is licenced under the Creative Commons Attribution 2.5 License. To view a copy of this licence, visit
http://creativecommons.org/licenses/by/2.5/
Janani Gopakrishnan is a freelance writer based in Chennai, India. She writes on a variety of topics, her favourites being technology, cuisine, and life. More at
http://gjanani.googlepages.com/