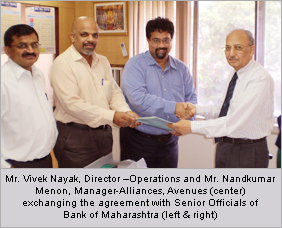 Bank of Maharashtra has tied up with Avenues, South Asia´s largest integrated ecommerce company to provide its customers with convenient online shopping facilities and pay for these goods and services through their bank accounts. Avenues´ solution CCAvenue, the all-purpose payment gateway propels thousands of merchants websites. By signing the agreement with Avenues, Bank of Maharashtra makes it easier for its customers to buy and pay for all types of products and services directly through their Bank of Maharashtra bank account.
Bank of Maharashtra is one of the leading banks of India and is known as the common man's bank. It services its customers through over 1400 branches located all over India. Bank of Maharashtra is known for its philosophy "Technology with personal touch". It accomplishes this by constantly incorporating the latest technology in order to provide best services to its customers. The past few years has seen a growing trend amongst customers to shop online. The agreement with Avenues is Bank of Maharashtra approach to making online shopping simpler and more accessible for its customers.
Avenues´ associated merchants also benefit from this agreement, as they can now accept payments directly on their websites from millions of new Bank of Maharashtra customers.

Bank of Maharashtra
Established in 1935, Bank of Maharashtra is one of the leading banks of India. Commonly known as the common man's bank, Bank of Maharashtra adopts a philosophy of "Technology with personal touch", and follows its motto stating "One Family, One Bank, Bank of Maharashtra".
The Bank of Maharashtra has incorporated the latest technology to provide best services to its customers. It services it customers through over 1400 branches (April 2009) located all over India. In fact, the bank claims to have the largest number of branches within the state of Maharashtra, among all the Public Sector banks.

About CCAvenue
CCAvenue is South Asia´s largest payment gateway solution powering thousands of eMerchants with real time, multi-currency, multiple payment options online payment processing services. The solution is powered by proprietary technology that integrates transaction processing, advance shopping cart, auction payment collection facility, fraud control, financial reporting and order tracking. CCAvenue is the only complete PG solution in the region that has the unique ability to offer the full spectrum of Internet payment options, including:
All types of Credit Card processing through Multiple Banks and Card Associations
Debit Card processing
Direct Debit to bank accounts of 30+ Indian Banks, 20+ Chinese Banks and 3 Singapore Banks
Mobile Payment Solutions via PayMate® and SBI Mobile
Cash Card Processing of ITZ Cash®
For more information, visit:
www.CCAvenue.com
.

About Avenues
Incorporated in the year 2001, Avenues is a zero-debt company that has been profitable from its inception. Avenues is head quartered in Mumbai, India and has subsidiary companies and offices in USA, Singapore and China. Avenues has developed several innovative, cutting-edge ASP hosted solutions that are used by thousands of eMerchants globally. Beginning as a single product company that catered to the local market, Avenues has become a multi-product company that operates on a global scale. The Avenues support and development center is based in Mumbai, India. The total strength of the Avenues team is currently 125 persons spanning across all offices. Avenues has three Business Units namely– Avenues Commercial Services, Avenues Travel Industry Services and Avenues Community Related Services.