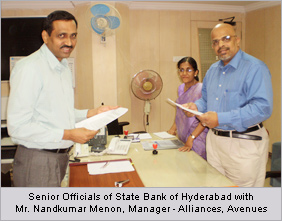 Avenues, South-Asia's largest ecommerce company, the parent company of CCAvenue, India's largest neutral online payment gateway is pleased to announce that it has signed a net banking agreement with State Bank of Hyderabad, a scheduled bank and State Bank of India's largest associate bank. Now, State Bank of Hyderabad customers can shop online at thousands of websites powered by Avenues solutions and pay online through a direct debit to their State Bank of Hyderabad bank accounts.
State Bank of Hyderabad is a scheduled bank headquartered in Gunfoundry, Hyderabad. Like all of State Bank of India's associates, it too believes in providing its customers with innovative and quality product and services. To further this goal, it has signed the net banking agreement with Avenues. Its customers can now purchase and pay for products and services online, directly through their State Bank of Hyderabad accounts.
The addition of State Bank of Hyderabad will also be beneficial for Avenues' partnered merchants, as they can now expand their customer base to include State Bank of Hyderabad's account holders. Through this net banking agreement, CCAvenue secures its place as India's largest direct engine with 30 prominent Indian banks.

About State Bank of Hyderabad
State Bank of Hyderabad was previously known as Hyderabad State Bank. Its first branch was opened at Gunfoundry, Hyderabad. In 1956, the RBI took over the Hyderabad State Bank and the State Bank of Hyderabad (SBH) was established as an associate bank of State Bank of India (SBI). In 1959, it became a subsidiary of the State Bank of India and is now the largest associate bank of State Bank of India.
Today, the State Bank of Hyderabad has over 1031 branches and provides its customers with depository, international banking, Internet banking, safe deposit lockers, ATMs and NRI services.

About Avenues
Incorporated in the year 2001, Avenues is a zero-debt company that has been profitable from its inception. Avenues is headquartered in Mumbai, India and has subsidiary companies and offices in USA, Singapore and China. Avenues has developed several innovative, cutting-edge ASP hosted solutions that are used by thousands of eMerchants globally. Beginning as a single product company that catered to the local market, Avenues has become a multi-product company that operates on a global scale. The Avenues support and development center is based in Mumbai, India. The total strength of the Avenues team is currently 125 persons spanning across all offices. Avenues has three Business Units namely– Avenues Commercial Services, Avenues Travel Industry Services and Avenues Community Related Services. For more information, log onto:
www.Avenues.info
.