'Bargaining is in our blood.'
Every customer is on the lookout for a great bargain and he usually negotiates in order to get the best price or deal. Often, your standard prices do not remain standard as customers who purchase in bulk expect discounts. Others expect value additions. For example, if you sell mobile phones, he may want you to add on accessories at a lowered rate. This tendency to bargain can be inconvenient as the prices are put down in black and white on your website. Even if you are willing to compromise, how do you collect payments for deals that are not published on your website?
Collecting money on negotiated deals requires you to create custom invoices. Since your online shopping cart is only configured for standard rates, collecting payments through your website is not easy. So what do you do? Do you go back to the old-fashioned way of conducting business: creating a paper-based invoice, sending it by courier and then waiting for the customer to mail or courier the payment back to you? Or do you do it the easy way, the online way?
As a CCAvenue merchant, you can simply email such customers a customized invoice and collect payments instantly and securely. All the customer has to do is click on the payment link on the email and make the payment through a wide range of payment options. No delays, no risk and, to be practical, no excuses.
To create an invoice, here is what you need to do:
Log into your CCAvenue M.A.R.S. account and go to the Collect Bill Payment page.
Open up the customizable invoice format by clicking on the 'Click Here' link in the 'Your Online Invoice' section.
Fill in the customer and transaction details and click on 'Send / Retrieve Invoice Data' to send the invoice to the customer.
Remember to add the link to the CCAvenue Billing & Shipping page, so, that the customer can use to pay for his purchase and complete the sale.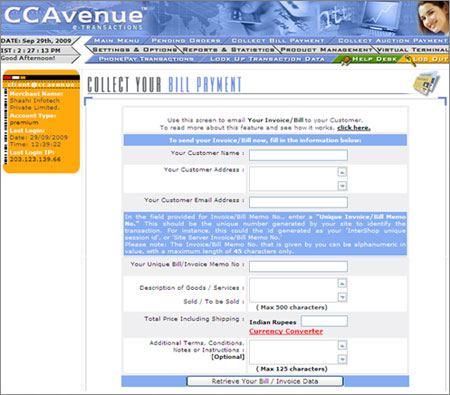 Advantages of using CCAvenue's 'Personalized Invoice' feature:
Close sales immediately by raise invoices directly online and collecting payments instantly.
Shorten the transaction processing time. CCAvenue's ready-to-use online invoice format means the entire process from creating the invoice to collecting payment takes place directly online. No more spending time and money designing, printing and couriering invoices.
Single record database. Since all invoices are created and sent using CCAvenue's 'Personalized Invoice' feature, all information (transaction and customer) is stored in a single database. There is no need to maintain a separate record book for negotiated deals. In addition, CCAvenue updates your accounts and sends you an e-mail copy of your customer's order and delivery address.
To summarize, CCAvenue's easy-to-use 'Personalized Invoice' feature is an excellent, concise and cost effective method of raising invoices for negotiated deals. It shortens the transaction processing time by enabling you to raise instant bills and ease your invoicing worries. Now, instead of spending time designing and printing invoices, you can use CCAvenue's ready-to-use invoice format to raise invoices quickly and easily. Moreover, you can personalize this format to suit your requirements. This flexibility is very useful when negotiating costs with clients and suppliers or offering discounts to only selected customers.