Avenues, South Asia's largest integrated ecommerce company and Andhra Bank, one of the top 20 Public Sector Banks in India are pleased to announce that they have signed an agreement to facilitate online shopping for Andhra Bank customers.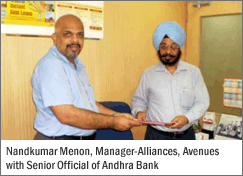 Andhra Bank customers located across India, in Dubai and New Jersey will gain online shopping convenience. Avenues is the parent company of CCAvenue, India's largest neutral online payment gateway, which, currently powers thousands of merchants to sell all types of products and services online. Andhra Bank customers now will be able to purchase and pay for products on any of these affiliated merchant websites directly through their Andhra Bank accounts.
CCAvenue merchants also gain from the direct debit agreement with Andhra Bank. Andhra Bank is one of the top 20 Public Sector Banks in India. It has a well-established customer base in southeastern India as well as the rest of India. Andhra Bank is also in the process of developing an international presence with branches in Dubai and New Jersey. By signing a Direct Debit Agreement with Andhra Bank, Avenues (parent company of CCAvenue) expands its merchants reach in the southeastern part of India and gives them access to (sell and collect payments) Non-Resident Indians and others living in Dubai and New Jersey.
Mr. Vishwas Patel, CEO, Avenues, "One of our key objectives is to offer our merchants the widest range of payment options to prevent loss of sales because the customer does not have the right type of card or bank account. We are constantly negotiating with banks and other financial institutions to add more payment options to our solutions. We are happy to announce that we have successfully tied up with Andhra Bank."
About Andhra Bank
Established in 1923 by the eminent freedom fighter Dr. Bhogaraju Pattabhi Sitaramayya, Andhra Bank is a Public Sector bank based in Hyderabad.
Andhra Bank offers banking services such as Treasury, Corporate/Wholesale Banking, Retail Banking and Other Banking Operations in the business segment. Its loan portfolio includes priority sector advances, retail lending, agriculture loans, micro credit, educational loans and housing loans. Deposits offered include current deposits, savings bank deposits and term deposits. In addition to regular banking services and solutions, Andhra Bank also offers services such as AB Premium Current Account and AB Privilege Corporate Salary Savings Bank Account with extra benefits to the customers.
Andhra Bank has nearly 1536 branches, 49 Extension Counters, 38 Satellite Offices, 22 Zonal Offices and an ATM network of 798 ATMs across the country.
About Avenues
Incorporated in the year 2001, Avenues is a zero-debt company that has been profitable from its inception. Avenues is headquartered in Mumbai, India and has subsidiary companies and offices in USA, Singapore and China. Avenues has developed several innovative, cutting-edge ASP hosted solutions that are used by thousands of eMerchants globally. Beginning as a single product company that catered to the local market, Avenues has become a multi-product company that operates on a global scale. The Avenues support and development center is based in Mumbai, India. The total strength of the Avenues team is currently 125 persons spanning across all offices. Avenues has three Business Units namely - Avenues Commercial Services, Avenues Travel Industry Services and Avenues Community Related Services. For more information, log onto:
www.Avenues.info
.