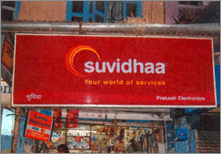 Suvidhaa, India's leading S-Commerce Company's entire retail chain will be adding hotel rooms sales to their wide array of services. Suvidhaa offers a wide bouquet of services to meet the needs of the common man. These services range from entertainment services like cinema and concert ticketing to bill payment services to health care services. While India's hottest online industry, Travel, is already a part of its bouquet of services, the hotels room sales piece have been missing due to the lack of a reliable hotel room inventory resource in India. HotelsAvenue, with its instantly bookable room inventory at over
1,00,000 hotels
changes all that. What makes HotelsAvenue special is that it is not only an end-to-end solution, but it also brings in inventory of hundreds of one star and two star stand-alone properties all over India. This inventory is not available with anyone else online. With HotelsAvenue, Suvidhaa can now offer a tremendous value add to its
27,000 strong retail network, which is present across 20 states and over 500 cities/towns.
The hotel room booking business is expected to be a big money spinner for the Suvidhaa Retailers since the huge range of hotel room inventory that HotelsAvenue offers ranging right from the usually invisible 1 star hotels to 5 Star hotels will come at very competitive rates. The Suvidhaa retailer can increase his revenue and widen his market reach and relevance. Now a Suvidhaa customer can add a hotel room booking to his regular shopping list of services and book a hotel room in places ranging from Chicago to Copenhagen, Lucknow to London, New Delhi to New York instantly.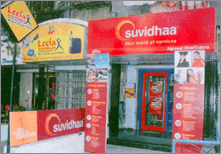 The end-to-end technology for the hotel room inventory feed to the outlets will come from HotelsAvenue, a brand owned by Avenues, India's biggest eCommerce company. HotelsAvenue will take care of the technology, contracting with the hotels and fulfillment of hotel rooms and packages. It will provide real time hotel room inventory of
over 100,000 global hotels
, which includes the highly elusive instantly bookable hotel room inventory of small to medium hotels in India. HotelsAvenue will be the technology provider of hotel room inventory for the entire Suvidhaa network. With this tie-up, HotelsAvenue easily outreaches every other competitor in this fragmented market space and achieves immense depth of penetration in the country.
Mr. Paresh Rajde, CEO, Suvidhaa Infoserve
, had this to say, "As a pioneer in S-Commerce in India, we are keen to innovate and provide wider and more meaningful services to the consumer through our Suvidhaa Channel Partners. Safe and convenient hotel room bookings have been difficult so far because of the limited reach of the existing travel players and due to the lack of an efficient and robust hotel room inventory source. With HotelsAvenue, that problem has been solved. Our Suvidhaa Channel Partners will make sure that hotel rooms are available in every street corner in India."
Vishwas Patel, CEO, Avenues says
, "Suvidhaa has been one of the most successful S-Commerce models in the country. The wide array of services they offer has made Suvidhaa a household name in country. Our objective is to make our hotel rooms available in every nook and corner of the country. Our tie-up with Suvidhaa is yet another step in this direction."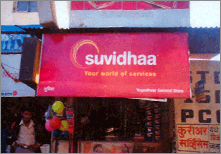 HotelsAvenue, India's biggest hotel room consolidator helps hotels by developing an extensive and expansive distribution network to sell its affiliated hotels' room inventory. In the past few months, Avenues has aggressively tied up with organizations such as Yes Bank, OSS Retail/ Done Cards and ITZ Cash to develop a widespread distribution network in India. With this tie-up with Suvidhaa Channel Partners, who will use exclusively use HotelsAvenue's room inventory feed, Suvidhaa will enjoy a deeper service offering for its customers and generate a new revenue stream for its Suvidhaa retail partners.
About Suvidhaa:
Suvidhaa Infoserve Pvt. Ltd. Is a company floated to aggregate, commoditize and distribute multiple services under one roof in the most convenient form to consumers.
They are the country's leading aggregator of multiple G2C/B2C services with access to more than 250 brands/service providers and the only company to offer revenue-generating services on single platform through point of sale outlets as well as mobile platform.
Suvidhaa have over 27000 Outlets and growing across 20 States covering 500 Cities/Towns mandated to empower over 68000+ CSCs and growing Across 4.10 Lac Villages.
About Avenues:
Incorporated in the year 2001, Avenues is a zero-debt company that has been profitable from its inception. Avenues is India's biggest integrated eCommerce company with its headquarters in Mumbai, India. It has subsidiary companies and offices in USA and Singapore. Avenues has developed several innovative, cutting-edge ASP hosted solutions that are used by thousands of eMerchants globally. Beginning as a single product company that catered to the local market, Avenues has become a multi-product company that operates on a global scale. The Avenues support and development center is based in Mumbai, India. The total strength of the Avenues team is currently 125 persons spanning across all offices. Avenues has three Business Units namely - Avenues Commercial Services, Avenues Travel Industry Services and Avenues Community Related Services. For more information, log onto:
www.Avenues.info
.
About HotelsAvenue:
HotelsAvenue addresses the travel agents, online intermediaries, portals etc. aspirations of having live feeds of instantly 'bookable room inventory' of over a hundred thousand global hotels on their own websites.
HotelsAvenue
will also have live feeds of hundreds of hotel properties based in India, Indonesia, Malaysia, UAE and Egypt that are using the Avenues' '
ResAvenue.com
' Solution on their branded website. Working together in tandem, this combination of solutions will create immense value for the travel industry. For more information, visit:
www.HotelsAvenue.com