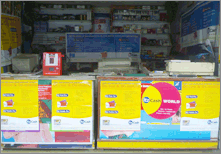 'Two powerhouses, one goal, the result: exponential growth'.
Next time you take a walk down the road to your local kirana shop, you will be able to make reservations at hotels around the world in addition to buying basic necessities, thanks to the initiative of ItzCash and HotelsAvenue. From now on,
over 40,000 ItzCash World Franchisees
located across India will distribute HotelsAvenue's instantly bookable hotel room inventory.
May 2010, saw two powerhouses, ItzCash, India's first multi-purpose 'Easy to Acquire & Use' prepaid card and HotelsAvenue, the world's greatest travel solution for travel professionals tied up to make it convenient for people located across India to make hotel reservations at hotels in India and across the global.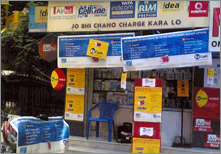 Each company brings substantial benefit to the table. ItzCash has a well-established merchant pan-India network consisting of
over 40,000 ItzCash World franchisees and approximately 2, 00,000 "ItzCash Point" outlets in 1800 Tier I & II towns
. This will help increase the reach of hotels using HotelsAvenue's distribution services.
Mr. Vishwas Patel, Owner & CEO, Avenues India
, said, "We are constantly looking for distribution partners to expand our hotel room distribution network and provide our affiliated hotels with a wide reach. This makes ItzCash with its wide spread merchant network a perfect partner. ItzCash's network of merchants will deepen the distribution reach of hotels signed up on our network while it provides them with an additional income from selling hotel rooms."
HotelsAvenue take care of the technology, contracting with the hotels and fulfillment of hotel rooms and packages. It will provide
real time hotel room inventory of over 100,000 global hotels
ranging from luxurious 5 star property chains to small bed and breakfasts. The tie-up with HotelsAvenue will add a powerful online hotel room booking application for ITZ Cash merchants. Now in addition to offering services such as shopping, travel booking, mobile top-ups, utility bill payment, entertainment booking, book subscriptions, gaming etc., ITZ Cash merchants can offer the average Joe, the convenience of walking to his local kirana shop and booking a hotel room anywhere in the world. Thus, enabling them to provide a wider range of services to its customers and make hotel reservations for customers of all socio-economic backgrounds. Now, they can sell complete travel packages to their customers covering a wider spectrum of services.
Mr. Naveen Surya, MD, Itz Cash Card Ltd.
, said, "We are constantly looking for methods to offer better value to our ItzCah family of merchants. The ability to book hotel rooms will bring in an additional stream of income for them and will help monetize their existing traffic at their outlets."

ItzCash
ItzCash is India's first multi-purpose
'Easy to Acquire & Use'
prepaid card. It is a unique and smart payment instrument available for Indian consumer that facilitates safe and convenient online and on-mobile payment. It enables its 8 million and rapidly increasing unique active users to perform a variety of transactions like shopping, travel booking, mobile top-ups, utility bill payment, entertainment booking, book subscriptions, gaming etc easily and securely.
ItzCash cards are available in various denominations: Rs.100, Rs. 250, Rs. 500, Rs. 1000. Rs. 3000, Rs. 7500, Rs. 10,000. Available through an extensive pan-India network spanning approx 150,000 outlets, called 'ItzCash Point' across approx 1000 Tier I & II towns in the country. It is the most conveniently available product for consumers across all Socio-Economic classification.
Avenues
Incorporated in the year 2001, Avenues is a zero-debt company, which has been profitable from its inception. Avenues is head quartered in Mumbai, India and has subsidiary companies and offices in USA, Singapore and China. Avenues has developed several innovative, cutting-edge ASP hosted solutions that are used by thousands of eMerchants globally. Beginning as a single product company that catered to the local market, Avenues has become a multi-product company that operates on a global scale. The Avenues support and development center is based in Mumbai, India. The total strength of the Avenues team is currently 125 persons spanning across all offices. Avenues has three Business Units namely - Avenues Commercial Services, Avenues Travel Industry Services and Avenues Community Related Services.
HotelsAvenue
HotelsAvenue addresses the travel agents, online intermediaries, portals etc. aspirations of having live feeds of instantly 'bookable room inventory' of over a hundred thousand global hotels on their own websites. HotelsAvenue will also have live feeds of hundreds of hotel properties based in India, Indonesia, Malaysia, UAE and Egypt that are using the Avenues' '
ResAvenue.com
' Solution on their branded website. Working together in tandem, this combination of solutions will create immense value for the travel industry.