EventAvenue is happy to announce that it has been chosen by Procam International, organizers of the Standard Chartered Mumbai Marathon to power the paid online registrations for the Standard Chartered Mumbai Marathon 2011.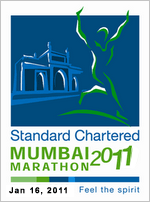 Every year in January, the city stands still for a few hours as people from all walks of life – business tycoons, movie stars, TV celebrities, sporting personalities, the physically challenged, senior citizens and others run to support worthy causes such as educating the poor, aiding the sick and marginalized and much more. The Standard Chartered Mumbai Marathon was first organized in 2004 and since then, it has steadily grown in size and reputation. Today, the Standard Chartered Mumbai Marathon is amongst the top 10 marathons in the world.
This year, whether you are a professional athlete registering to run the marathon or an individual participating in the dream run or an organization taking part in the corporate challenge, registering to run is simpler than saying 1, 2, 3. Runners no longer have to head to the nearest Standard Chartered or affiliate branch to collect forms, fill forms with a photograph and pay the registration fee. Procam International, organizers of the Standard Chartered Mumbai Marathon 2011 have signed up with EventAvenue to take the registration process to the participant's desktop. Runners can simply log on to the Standard Chartered Mumbai Marathon 2011 website to register and pay. An additional benefit of signing up with EventAvenue is the diverse range of payment options it brings to the table. Indian runners from all walks of life will be able to successfully register and pay using their credit cards, debit cards, net banking accounts, cash cards or even their mobile phones.
So, if you feel motivated to participate but haven't registered yet simply because you think it is too much trouble then go register now. That's because with EventAvenue it's so easy now!
Procam International
Procam International, the country's leading sports and leisure management company, has always stayed away from the trodden path, opting instead for events that would challenge the limits of marketing and organizational excellence. It has successfully promoted events like the Standard Chartered Mumbai Marathon, Delhi Half Marathon, Bangalore 10K Run, Mahindra Squash Challenge, ATP Challenger Tennis, the Squash World Open, WWE, Asian Beach Volleyball, World Body Building, besides National level events in tennis, soccer, horse racing and golf.
About Standard Chartered Bank:
Standard Chartered Bank was formed in 1969 through the merger of Standard Bank of South Africa and Chartered Bank of India, China and Australia. The bank headquarters are situated in London with operations in more than 70 countries with more than 1,700 branches and 73,000 strong workforce. The India operations of Standard Chartered Bank originated in Kolkata, but the headquarters are now in Mumbai with Kolkata branch as a key associate.
The bank has a wide product portfolio catering to its huge customer base spread across India. Standard Chartered Bank offers sophisticated banking and financial products and is regarded as one of the most prominent and customer friendly banks in India. The bank operates through 82 branches and 210 ATMs spread across India. Further, the bank facilitates its customers with 24X7, 21 card helpline centers and 29 phone banking facilitation centers, across India.
About EventAvenue:
EventAvenue offers event managers a range of customized online event management tools designed to maximize the reach and profitability of their events. This solution has been specially created for event organizers, convention organizers, and exhibition conveners; essentially anyone wishing to organize/host an event. EventAvenue is a comprehensive web application to create, publish, advertise events and offer real time online registration and booking with real time payments right from the organizers own website. It also has an interactive stall map booking facility, which allows the Event organizer to publish his stalls plan online and allows his prospective exhibitors to book the exhibition stall/space in real time. For more information, visit:
www.EventAvenue.com
.