The
Internet and Mobile Association of India (IAMAI)*
recently published a Digital Commerce Report stating that the Indian Ecommerce Market grew from Rs. 8,146 crores in 2007 to an estimated Rs. 31,598 crores by 2010. The Indian Ecommerce Market is set to cross the Rs. 46,000 cr at a 47% growth rate in 2011.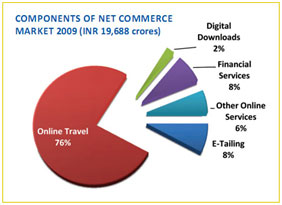 This growth rate is driven primarily by the travel industry, which contributes to 76% (Rs. 14,953 crores) of the total ecommerce market. The online travel industry includes sale of domestic air travel, international air travel, hotel bookings, railway tickets, bus tickets, tour packages and travel insurance. This segment is expected to grow at a much higher rate in the next few years due to conveniences of paying online.
The online market space for other industries has also grown. eTailing takes second position with 8% share (Rs. 1,550 crores). The eTailing segment includes purchases of durable products such as electronic items, home and kitchen appliances as well as personal items such as apparel and jewelry. The Financial Services Market takes third position with 8% share (Rs. 1,540 crores). The Financial Services segment includes Insurance and related services, online transactions for financial services and other fund-based transactions such as paying utility bills.
The Digital downloads segment is currently just 2% (Rs. 435 crores) of the total ecommerce market in India. However, this segment is expected to grow due to the proliferation of mobile devices and the services available over the Internet.
Online classifieds services such as online dating, matrimonial and jobs make up the remaining online market share of 6% (Rs. 1,210 crores).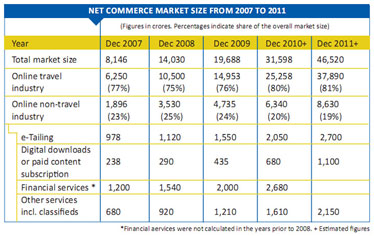 As you can see, online users in India have exhibited willingness to make purchases over the Internet; this is quite evident from the growing net commerce industry. However, the interactions have been skewed towards specific categories such as travel or certain products in eTailing. The report concludes with the following excerpt:
'The online users in India have evolved and are actively seeking to include their digital interactions into their daily activities – making purchases and indulging in transactions being one of them. Although the behavior in online transactions has been a little skewed in the past wherein travel comprised the majority of the market; this has changed since 2009.
As per the primary research, e-Tailing is one the primary growth driver and will remain so in the near future. A major reason for such growth is the con5nuing niche and generalized websites that are being introduced over the Internet. These websites serve certain segments that are willing to transact monies for the products such as high-end fashion and personalized products, due to the convenience and range of products it others.
There have also been certain initiatives that include mass market; for instance, certain aggregators and traders are offering their products over the Internet to reach wider audience in the non-metro markets. As Internet seeps more into the Tier-II and Tier-III cities there is bound to be increase in the number of online users that would be willing to indulge in online purchases.'
Click here
to download complete report


*IAMAI is the
only specialized industry body in India that represents the interests of online and mobile value added services industry.