Avenues, South Asia's largest integrated ecommerce company has signed a direct debit agreement with State Bank of Mysore, the premier commercial bank in Karnataka for online shopping facility for its customers. 'With the CCAvenue.com tie-up, State Bank of Mysore customers can now shop at thousands of CCAvenue merchant websites', says Mr. Vishwas Patel, CEO, Avenues.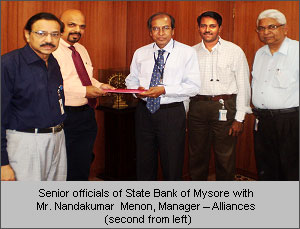 CCAvenue.com is India's largest neutral payment gateway, which 85% of India's merchants use to sell their products and services online. CCAvenue.com affiliated merchants sell all types of products and services from clothing and books to computer repair and video rentals. This arrangement with CCAvenue.com will enable State Bank of Mysore account holders to pay for any product or service sold on any CCAvenue.com affiliated merchant website directly through their State Bank of Mysore bank account.
Mr. Vishwas Patel, CEO, Avenues, "One of our key objectives is to offer our CCAvenue merchants the widest range of payment options to prevent loss of sales caused by lack of the right type of card or bank account. To further these efforts, we are constantly welcoming banks and other financial institutions to add more payment options to our payment offering. We are happy to announce that we have successfully tied up with State Bank of Mysore."
CCAvenue.com merchants benefit significantly from Avenues direct debit agreement with State Bank of Mysore. The addition of State Bank of Mysore to Avenues ever growing direct debit payment option list means that CCAvenue.com affiliated merchants will be able to reach and sell to a wider Indian audience, thus, increasing their revenue generating opportunities.
State Bank of Mysore also benefits considerably from the direct debit agreement with CCAvenue.com. This agreement enables the bank to maintain its status as a premier commercial bank by constantly evolving keeping in view the changes in the environment. Today, ever-busy lives have made online shopping an attractive alternative for busy parents and others who are looking for a little more free time. State Bank of Mysore through its agreement with Avenues seeks to make it easier for its account holders to shop online.
Senior official of State Bank of Mysore said, "At State Bank of Mysore, we are committed to providing our account holders with consistently superior and personalized services. The growing prevalence of online shopping makes providing innovative internet banking technology a necessary addition. The agreement with Avenues will help us honor our commitment to provide our account holders with the best of services."
State Bank of Mysore
State Bank of Mysore (SBM) is an associate bank of State Bank of India, offering a range of financial products and services. Established in 1913 under the patronage of Government of Mysore as Bank of Mysore Ltd, State Bank of Mysore became an associate of SBI in March 1960. Today, State Bank of Mysore is a premier commercial bank in Karnataka, with all India presence, committed to provide consistently superior and personalized customer.
State Bank of Mysore has a widespread network of 690 branches and 21 extension counters spread all over India. This includes 5 specialized SSI branches, 4 Industrial Finance branches, 3 Corporate Accounts Branches, 4 specialized Personal Banking Branches, 10 Agricultural Development Branches, 3 Treasury branches, 1 Asset Recovery Branch and 8 Service Branches, offering wide range of services to the customers.
About Avenues
Incorporated in the year 2001, Avenues is a zero-debt company that has been profitable from its inception. Avenues is headquartered in Mumbai, India and has subsidiary companies and offices in USA and Singapore. Avenues has developed several innovative, cutting-edge ASP hosted solutions that are used by thousands of eMerchants globally.
Beginning as a single product company that catered to the local market, Avenues has become a multi-product company that operates on a global scale. The Avenues support and development center is based in Mumbai, India. The total strength of the Avenues team is currently 125 persons spanning across all offices.
Avenues has three Business Units namely –
Avenues Commercial Services, Avenues Travel Industry Services
and
Avenues Community Related Services
. For more information, log onto:
www.Avenues.info
.
About CCAvenue
CCAvenue®
is South Asia's largest payment gateway solution powering thousands of eMerchants with real time, multi-currency, multiple payment options online payment processing services. The solution is powered by proprietary technology that integrates transaction-processing, advance shopping cart, auction payment collection facility, fraud control, financial reporting and order tracking. CCAvenue is the only complete PG solution in the region that has the unique ability to offer the full spectrum of Internet payment options, including:
All types of Credit Card processing through Multiple Banks and Card Associations
Debit Card processing
ATM cum Debit Card processing
Direct Debit to bank accounts of 35+ Indian Banks, 20+ Chinese Banks and 3 Singapore Banks
Mobile Payment Solutions via PayMate®, SBI Freedom and Union Bank
Cash Card Processing of ITZ Cash®, NoQ24x7, Done Card and OxiCashs
For more information, visit:
www.CCAvenue.com