CCAvenue.com has expanded its netbanking facility and tied up with DCB Bank thus adding to its reach across all major banks. CCAvenue.com has always aimed at providing its merchants the best and the maximum number of payment options.
Now, DCB Bank account holders can shop at thousands of websites powered by the CCAvenue.com payment gateway and pay online through a direct debit to their DCB account.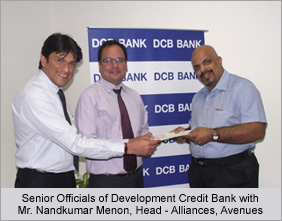 A new generation private sector bank, DCB Bank is the preferred banking services provider across 82 state-of-the-art branches across 10 states and two union territories. The Bank has recently launched several value added initiatives and intends to become one of the country's preferred and profitable private sector banks, providing a comprehensive suite of "best in class" products for customers in Retail, SME and Corporate Banking market segments in chosen geographies.
DCB Bank's financial products and services span Savings and Current accounts as well as innovative products such as 'DCB CashBack Card', 'DCB PayLess Card', DCB Elite Saving and Current Account and 'Easy Business', all of which are unique and have a value proposition. Under the able guidance of an experienced Board of Directors and the leadership of a dynamic senior management team, DCB strategically aims to enhance its reach, while introducing exciting new banking products for its customers.
CCAvenue.com merchants also benefit from this direct debit agreement. DCB has an extensive network of branches spread across 28 cities in India. Therefore, CCAvenue.com merchants can reach out to a much larger number of customers through this agreement.
About DCB Bank
DCB Bank (Development Credit Bank Limited) is a modern emerging new-generation private sector bank with 82 branches across 10 states and two union territories. It is a scheduled commercial bank regulated by the Reserve Bank of India. Professionally managed and governed, DCB Bank has contemporary technology and infrastructure including state-of-the-art Internet banking for personal as well as business banking customers.
DCB Bank's business segments include Retail, micro-SMEs, large SMEs, mid -Corporates, agriculture, commodities, government, public sector, Indian banks, co-operative banks and non banking finance companies (NBFC). The Bank has approximately 600,000 customers.
DCB Bank reported full year Net Profit of Rs 21.43 crore for FY 2011. Deposits in FY 2011 grew by 17% to Rs 5,610 crore, while Advances grew by 24% to Rs 4,271 crore during the fiscal. The Balance Sheet size was at Rs 7,372 crore, registering 20% growth.
DCB Bank has deep roots in India since its inception in 1930's. Its promoter and promoter group the Aga Khan Fund for Economic Development (AKFED) & Platinum Jubilee Investments Ltd. holds over 23% stake. AKFED is an international development enterprise. It is dedicated to promoting entrepreneurship and building economically sound companies. It has around 150 companies and employs over 30,000 people with a turnover of approximately US$ 2 Bn. AKFED had co-promoted HDFC in India in the late 70's.
For more details kindly visit
www.dcbbank.com
&
www.akdn.org/akfed
DCB Bank enquiries may be directed to:
Gaurav Mehta, DCB Bank Marketing, Communications & PR
Cellphone: +91 9870432101
Landline: +91 22 66187000
Email:
gauravm@dcbbank.com
About Avenues
Incorporated in the year 2001, Avenues is the parent company of CCAvenue.com and is a zero-debt company that has been profitable from its inception. Avenues is headquartered in Mumbai, India and has subsidiary companies and offices in USA and Singapore. Avenues has developed several innovative, cutting-edge ASP hosted solutions that are used by thousands of eMerchants globally.
Beginning as a single product company that catered to the local market, Avenues has become a multi-product company that operates on a global scale. The Avenues support and development center is based in Mumbai, India. The total strength of the Avenues team is currently 125 persons spanning across all offices.
Avenues has three Business Units namely – Avenues Commercial Services, Avenues Travel Industry Services and Avenues Community Related Services. For more information, log onto:
www.Avenues.info
.
About CCAvenue.com
CCAvenue.com® is South Asia's largest payment gateway solution powering thousands of eMerchants with real time, multi-currency, multiple payment options and online payment processing services. The solution is powered by proprietary technology that integrates transaction-processing, advance shopping cart, auction payment collection facility, fraud control, financial reporting and order tracking. CCAvenue.com is the only complete PG solution in the region that has the unique ability to offer the full spectrum of Internet payment options, including:
All types of Credit Card processing through Multiple Banks and Card Associations
Debit Card processing
ATM cum Debit Card processing
Direct Debit to bank accounts of 40+ Indian Banks (India's largest direct debit engine), 20+ Chinese Banks and 3 Singapore Banks
Mobile Payment Solutions via PayMate®, SBI Freedom and UMobile
Cash Card Processing of ITZ Cash®, Done Card, OxiCash and NoQ24x7