Payment gateway provider CCAvenue has launched Social Network In-stream Payments (S.N.I.P.), a collection service with which businesses can sell directly through social networks such as Facebook, Twitter, Pinterest, Whatsapp and others.
When customers click the CCAvenue S.N.I.P.™ link on the page, they are redirected to the CCAvenue mobile-friendly payment page where the transaction is completed.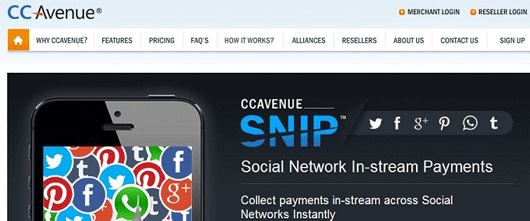 Merchants can manage their S.N.I.P. campaign directly from their CCAvenue account. They can create a campaign, publish it on social media and collect payments instantly. The platform also generates a QR code that can be printed in offline media like newspapers, magazines and posters. Customers who capture the code will be directed to the payment page.

Mohan Nair, Chief Marketing Officer of Avenues India
, says "With CCAvenue S.N.I.P.™, there aren't any shopping carts or lengthy forms to fill. There aren't any tedious processes for checking out either. You just snip right through the entire process."