What is CCAvenue's S.N.I.P. all about? In conversation with CMO, Mohan Nair
Published by YOURSTORY - May 20, 2013
What is CCAvenue's S.N.I.P. all about? In conversation with CMO, Mohan Nair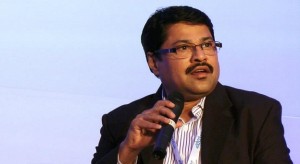 CCAvenue recently launched India's first
Social Network In-Steam Payment collection
service after launching a free payment gateway
plan for startups
. These steps generated quite a buzz among the startup community and here, we get in a conversation with CCAvenue CMO, Mohan Nair to learn more about S.N.I.P.
Q: What exactly is CCAvenue S.N.I.P.? How does it work from the buyer's perspective?
A:
CCAvenue S.N.I.P. or Social Network In-stream Payments is a unique collection service we offer our merchants which allows them to collect payments in-stream and instantly through a link on Social Media. If a social network user, let's say a Facebook user, accesses the product page of the merchant and decides to buy the product after going through its details, then he just needs to click the S.N.I.P. link on that page. The link will take him directly to the mobile-friendly payment page from where he can complete the purchase. There's no shopping cart or lengthy forms for the customer to fill. He snips right through and buys the product in-stream without hassles.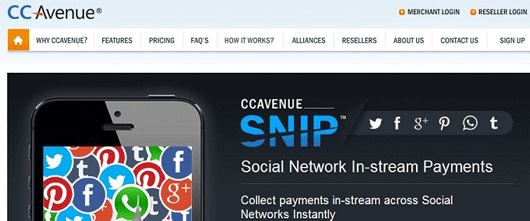 Q: Do you feel that India is ready for this?
A: Gauging from the response we have got so far, I definitely think so. Social Media has grown by leaps and bounds in our country. Facebook alone has more than 65 million users in India. Even more internet users visit other social networks like Twitter, Google+, WhatsApp and Pinterest. Besides, India has a very young population. More than 75% of its population is below 35 years of age. Many of these youngsters are tech-savvy and socially networked and will find it easy to make purchases from the S.N.I.P. link on Social Media. All these factors translate into huge business potential for merchants who choose to register with us and avail of this service.



Q: What is your take on Social Commerce?
A: Social Commerce is a brand new phenomenon. It constitutes a whole new way of doing business. Earlier social networks were merely used as an advertising platform or a source for lead generation. CCAvenue S.N.I.P. actually enables merchants to sell their products or services directly from pages on Social Networks.

Social Commerce now transcends national borders. People living abroad, including NRIs, can buy products easily from links on Facebook, Twitter and other Social Media. Online businesses need to get on the Social Commerce bandwagon as quickly as possible. It will extend their customer reach significantly. Social Commerce harnesses the immense potentiality of Social Media.



Q: How safe is it for your customers and merchants to transact in-stream on social networks?
A: It's absolutely safe for customers and merchants to transact in-stream on social networks if they are using the CCAvenue payment gateway. We offer the highest level of security possible. Our proprietary tool, Fraud and Risk Identification System and Knowledge Base (FRISK), has a significant negative database collated over a decade across merchants. CCAvenue has achieved the new PCI DSS 2.0 Standards of Compliance, which makes it one of the most secure payment gateways in the world. We have registered with VeriSign, the world's premier net authentication agency. Besides, CCAvenue has implemented key authentication protocols like Verified By Visa and MasterCard SecureCode. The risk of fraud or chargebacks is negligible because of the state-of-the-art security processes we have in place.



Q: Avenues has announced that this feature works for offline media too. Please elaborate.
A: In addition to this Social Commerce facility, CCAvenue also generates a QR code which merchants can publish adjacent to their products on offline media channels like newspapers, magazines and posters. When customers scan the QR code, it will take them directly to the payment page that already has the product details and amount filled up. Customers can simply enter the card details and make the payment. Both the S.N.I.P. link and QR code campaigns will be mapped to the same inventory in the merchant's account.



Q: What are the main benefits of CCAvenue S.N.I.P.?
A: CCAvenue S.N.I.P. offers several benefits for customers. They can buy products easily from their favourite social networking sites. The payment processing is instantaneous, convenient and secure. They don't have to fill lengthy forms or use shopping carts to make the purchase. The transaction processing time has been drastically reduced.

CCAvenue S.N.I.P. is great for merchants as well. They can tap a huge tech-savvy and socially networked customer base to expand their business. Their fans, friends and followers on Facebook, Twitter and other social media can spread their S.N.I.P. link across these social networks. Moreover, their products can be purchased by customers living abroad. CCAvenue S.N.I.P. will popularize their branding and widen their customer reach substantially. It will also enable impulse purchases by converting casual observers into serious customers.



Q: So what's next after S.N.I.P.?
A: Avenues has always been several steps ahead of our nearest competitors. We are constantly upgrading our technology and up-scaling our services to help our merchants enhance their business potential and thrive in the market. We will soon be rolling out several new features and facilities for the benefit of our merchants and their customers.