Today, the NPCI (National Payments Corporation of India) crossed a significant milestone in the building of a strong and secure 'national' card payment network for its homegrown RuPay Card. In a glittering ceremony at the Taj Vivanta in Mumbai this morning, which was presided over by Shri H R Khan, Deputy Governor, RBI and under the supportive gazes of the Chairmen, CEOs and MDs of some of the leading national banks, Shri A P Hota, Managing Director of the NPCI kicked off the launch of the RuPay ecommerce facility by doing a live transaction on the Future Bazaar website which is powered by the CCAvenue Payment Gateway. The transaction went through in seconds and prompted a spontaneous applause of appreciation from the audience. Shri Hota demonstrated that the unique combination of the picture challenge and the ATM PIN method of authenticating the transaction would make the transaction process simple, yet secure and would revolutionize the way transactions are done in India. CCAvenue's participation in the project ensures that the RuPay Card will get accepted at over 85% of India's ecommerce websites instantly.
By launching the eCommerce acceptance facility of the RuPay Card, NPCI has achieved the three key services required to make the RuPay Card successful on the acquiring side; Viz, acceptance at ATMs, acceptance at merchants' POS terminals and finally, acceptance at all major online websites. Now the task will fall upon the participating banks to broaden the issue of RuPay Cards to more and more of its bank account holders.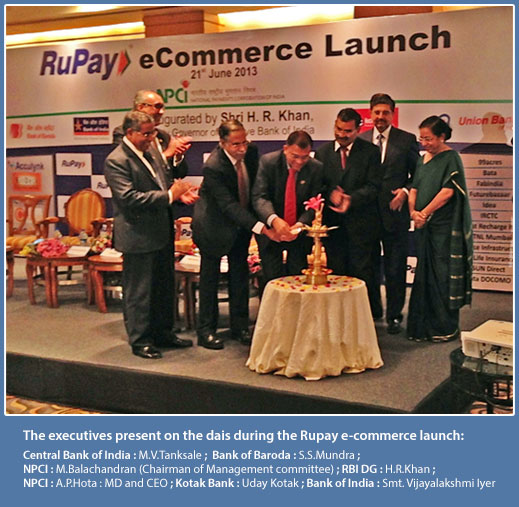 This launch is of great significance to the retail sector in India for two major reasons. Firstly, the use of cash as the first choice of payment method for a transaction between the buyer and the seller is quite the norm in India. In fact, paying by cash is so popular that industry estimates put out an astonishing figure; over 96% of India's transactions are cash based. This huge dependency on cash has some far reaching negative implications for the economy and the country. Therefore, the RBI has been very proactive in exploring and encouraging new ways to reduce the dependency on cash transactions.
Secondly, the meteoric rise of the Indian eCommerce industry in the past decade has induced the establishment of a world-class domestic card payment network in the country. The logic behind this move is driven by a simple vision; if there are Indian merchants who are selling Indian products to Indian customers who are paying for them through an Indian bank accounts, then why not have an Indian Card system to tie it all together? NPCI (National Payments Corporation of India) is an umbrella institute which has been given to responsibility to create new payment products and services to reduce the dependency on cash transactions and create a domestic card network.
RuPay is just one of the many initiatives that NPCI has successfully launched to achieve its mandate. RuPay is promoted by ten of the leading domestic banks - The State Bank of India, Punjab National Bank, Canara Bank, Bank of Baroda, Union Bank of India, Bank of India, ICICI Bank, HDFC Bank, Citibank and HSBC. The Indian Corporate Affairs Minister, Mr. M. Veerappa Moily, has declared that all state-owned banks will join this new retail system by the end of this year.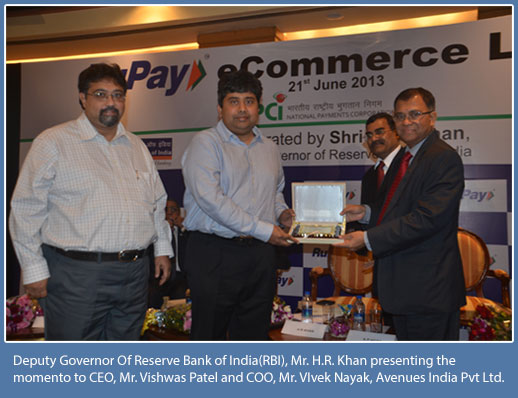 As India's biggest payment gateway, CCAvenue is among the first payment gateways to receive authorization from NPCI to process RuPay Debit Cards through Kotak Mahindra Bank. Customers will now be able to avail the RuPay Debit Cards to make purchases securely and conveniently on thousands of merchants' websites powered by CCAvenue. This alliance will also be advantageous to CCAvenue's merchants. They can now collect payments online instantly from a large numbers of new customers since the issue of RuPay is likely to be concentrated in the Tier 3 and Tier 4 cities in India. NPCI has already approached regional rural banks, urban co-operative banks and other banks that have not been offering any type of payment cards so far. This happily coincides with the industry research findings that new ecommerce customers are also coming in largely from these markets.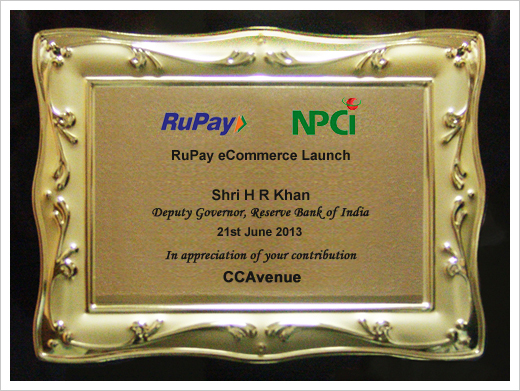 Mr. Mohan Nair, Chief Marketing Officer, Avenues India, states, "The number of buyers would increase substantially from the Tier 3 and Tier 4 cities where people would be keen to purchase products/brands that are not easily available locally. This is indeed good news for Indian eCommerce."
RuPay will initially process only Debit and ATM cards through the National Switch set up by NPCI. By the end of 2014, RuPay will also venture into credit card issuance to widen its customer reach considerably. Presently, more than 2.5 million RuPay Debit Cards have been issued in the Indian Market, but this number is expected to expand rapidly to reach 150 million by the end of this year.
About RuPay
RuPay is India's domestic card payment network established by NPCI and promoted by the leading banks in the country. It's a world-class retail payment system that is user-friendly, affordable, state-of-the-art and easily accessible even in the remotest corner of India. RuPay strives to fulfill RBI's vision of offering an open-loop, multilateral domestic system that will enable all Indian banks and financial institutions to participate in electronic payments. The addition of RuPay Debit Cards will extend the customer base to smaller cities and towns as well as rural areas.
About Avenues
Incorporated in the year 2001, Avenues is the parent company of CCAvenue.com and is a zero-debt company that has been profitable from its inception. Avenues is headquartered in Mumbai, India and has regional offices in Delhi and Bangalore. Avenues has developed several innovative, cutting-edge ASP hosted solutions that are used by thousands of eMerchants globally.
Avenues has three Business Units namely: Avenues Commercial Services, Avenues Travel Industry Services and Avenues Community Related Services.
For more information, log onto:
www.Avenues.info
.
About CCAvenue.com
CCAvenue.com® is South Asia's largest payment gateway solution powering thousands of eMerchants with real time, multi-currency, multiple payment options and online payment processing services. The solution is powered by proprietary technology that integrates transaction-processing, advance shopping cart, auction payment collection facility, fraud control, financial reporting and order tracking. CCAvenue.com is the only complete PG solution in the region that has the unique ability to offer the full spectrum of Internet payment options, including the leading Credit Cards, Debit Cards, ATM-cum Debit Cards, Netbanking and Mobile Payments.
For more information, visit:
www.CCAvenue.com