Avenues, the parent company of CCAvenue, South Asia's leading payment gateway provider, is pleased to announce that it has signed a net banking agreement with Indian Bank, one of the largest public sector banks in the country. Now, Indian Bank customers can shop online at thousands of websites powered by CCAvenue.com and pay online conveniently through a direct debit to their Indian Bank accounts.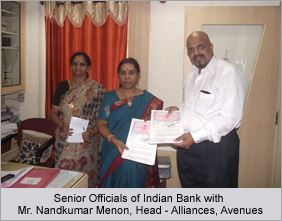 CCAvenue will benefit from the signing of the net banking agreement with Indian Bank as it gains yet another net banking payment option to offer its merchants. Indian Bank provides Core Banking Solution (CBS) in all its 2089 branches and its total business reached Rs.2,11,988 Crores as on 31.03.2012. It has overseas branches in Singapore and Sri Lanka (Colombo and Jaffna) as well as correspondent banks in over 70 countries. Moreover, Indian Bank has organized campaigns in Indian villages with population above 2000 under Financial Inclusion to ensure that at least one Bank account is provided to every household in these villages.
CCAvenue's merchants will also benefit greatly from this net banking agreement. They can sell and collect payments for their products and services instantly and directly online. Additionally, CCAvenue's merchants can reach out to a much larger customer base through this agreement.
Mr. Vishwas Patel, CEO, Avenues
says, "Since CCAvenue.com's launch in 2001, we have always endeavored to provide our CCAvenue merchants with the widest payment network. Year after year, we have consistently added to our payment network which grew from a single bank to more than 44 banks. We are pleased to announce that we have added yet another bank 'Indian Bank' to India's largest direct debit engine."


About Indian Bank
Indian Bank was established on 15th August 1907 as part of the Swadeshi movement and has grown to become one of the largest public sector banks in the country. Based in Chennai, Indian Bank provides Core Banking Solution (CBS) to customers in all its 2089 branches. This premier bank is one of two Indian banks to feature in the
List of Fortune 500 Companies in the World.
Indian Bank has been a leader in bringing new initiatives for development of rural banking and extending financial assistance to Indian farmers. The bank has received the award from the Honorable Union Minister of Finance for Excellence in Agricultural Lending. Moreover, Indian Bank has also won the Best Performer Award for Micro-Finance activities in Tamil Nadu and the Union Territory of Pondicherry from the National Bank for Agriculture and Rural Development (NABARD).

About Avenues
Incorporated in the year 2001, Avenues is the parent company of CCAvenue.com and is a zero-debt company that has been profitable from its inception. Avenues is headquartered in Mumbai, India and has regional offices in Delhi and Bangalore. Avenues has developed several innovative, cutting-edge ASP hosted solutions that are used by thousands of eMerchants globally.
Avenues has three Business Units namely: Avenues Commercial Services, Avenues Travel Industry Services and Avenues Community Related Services. For more information, log onto:
www.Avenues.info.
About CCAvenue.com
CCAvenue.com® is South Asia's largest payment gateway solution powering thousands of eMerchants with real time, multi-currency, multiple payment options and online payment processing services. The solution is powered by proprietary technology that integrates transaction-processing, advance shopping cart, auction payment collection facility, fraud control, financial reporting and order tracking. CCAvenue.com is the only complete PG solution in the region that has the unique ability to offer the full spectrum of Internet payment options, including:
All types of Credit Card processing through Multiple Banks and Card Associations

Debit Card processing

ATM cum Debit Card processing

Direct Debit to bank accounts of 44+ Indian Banks (India's largest direct debit engine)

Mobile Payment Solutions via PayMate, SBI Freedom and UMobile

Cash Card Processing of ITZ Cash®, ICash Card, OxiCash and NoQ24x7
For more information, visit:
www.CCAvenue.com