CCAvenue, India's leading payment gateway is proud to announce the inclusion of Allahabad Bank in its extensive payment network. With this addition, CCAvenue now has 54 of the most top-notch banks in its Direct Debit Engine, which happens to be the largest in the country.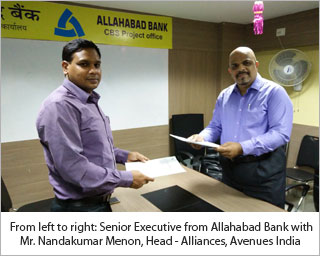 Right since its inception, CCAvenue has endeavoured to ensure that all the popular and niche payment options are made available to its merchants. The alliance with Allahabad Bank is just one of the many steps towards achieving this objective. The bank has nearly 3209 domestic branches and one overseas branch at Hong Kong. For the FY '15-'16, it made a total business of Rs. 3,58,352 crore. CCAvenue merchants stand to benefit substantially from this partnership as they can now reach out to the bank's millions of users nationwide and multiple their revenues by manifold.
The inclusion will also offer an advantage to Allahabad Bank account holders during online transactions. More than 28 million customers of the bank shall now be able to avail safe and convenient payment services on 85% of Indian eCommerce sites powered by CCAvenue. Customers can make payments easily for a wide range of products and services across all the major industry verticals through a direct debit to their bank accounts.
Being the country's largest third-party payment aggregator, CCAvenue continually works towards expanding its payment network. During this fiscal, the PG plans to join hands with three times as many companies. As CCAvenue introduces more and more such payment options, it will help its merchants in maximizing their revenue earnings, as well as provide customers with the freedom to transact online with payment options that they prefer.
About Allahabad Bank

Founded in 1865 by a group of Europeans, Allahabad Bank is a nationalized bank with its headquarters in Kolkata. It is the oldest joint stock bank in India. On 24 April 2014, the bank entered into its 150th year of establishment. Owing to its operational excellence in financial services, Allahabad Banks has been the recipient of several prestigious awards such as Indira Gandhi Rajbhasha Award, The Sunday Standard Best Bankers' Award, Vigilance Excellence Award, FIBAC Banking Award, etc. The bank offers a multitude of products and services such as personal banking, NRI services, retail credit products, corporate banking, financial inclusion and more. As on March 2016, the total business of the bank increased to Rs. 3,58,352 crore. To know more, visit www.allahabadbank.in.
About Avenues
With its headquarters in Mumbai, Avenues India has developed several cutting-edge solutions that are used by thousands of eMerchants spanning across South Asia. Its flagship brand, CCAvenue offers real-time, multi-currency online payment processing services for businesses in the major industry verticals. It is the only complete PG solution in the region that offers the full spectrum of Internet payment options including the 6 major Credit Cards, 98+ Debit Cards (All MasterCard /Visa /Maestro /RuPay Cards), Amex EzeClick, 53+ Net Banking, 15 Prepaid Instruments and up to 10 Multi Bank EMI options.
For more information, visit www.ccavenue.com